Desert Eagle: a magnum-powered pussycat
by Tim Bannister
Australian Shooter September 2001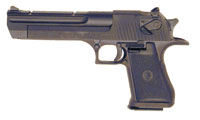 This is one helluva big, ugly gun. But, like heavyweight boxers, this fighter isn't designed for beauty; it's designed to pack a punch.
Reliable, accurate and weighing in at more than two kilograms (just less than two and half kilograms loaded), the Israel Military Industries (IMI) Desert Eagle Mark XIX in .44 Magnum drew plenty of attention at the range. To get some idea of its weight, pick up a phone book and hold it in one hand for a minute - it's a heavyweight all right and that's without a scope. A while back a friend had lent me his Ruger Redhawk revolver in the same calibre and it was with some apprehension that I loaded up the Desert Eagle and prepared to squeeze the trigger. Thankfully, the recoil was surprisingly small for the kind of loads I was feeding it and the task of reviewing the self-loader became all the more enjoyable.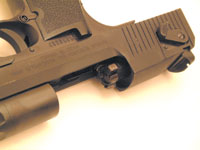 Ah, it's just a pussycat.
Firstly, you might be wondering why a person would fork out just less than $3000 for as I said previously, a big ugly gun. Well, the short answer is 'because we can'. I asked the same question of Gold Coast Shooters Supplies' Dick Haines who answered, "Stress relief".
"I see fairly well-to-do businessmen after their day's work take the Desert Eagle to the range for 15 minutes and come back with a big smile on their face," said Dick.
The other reason is the envy factor. You know you will have one of the biggest, most powerful handguns to have come off the engineer's drawing board. If you want to impress your friends further, the Desert Eagle is also available in a 24K gold plating for merely another $1000 on top of the $3000.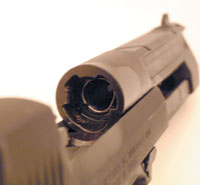 In America, where they enjoy the privilege of handgun hunting, the Desert Eagle is a much sought-after tool as an alternative to magnum revolvers.
While at the range I overheard one fellow ask the question of why you would want one. While no-one confessed to having a secret desire to own one, that didn't stop a small crowd from semi-circling me during the test, which I can tell you is quite off-putting to a non-competitive shooter when you're attempting an accuracy shot.
At 15 metres off-hand, adopting a modified Weaver stance, I achieved two, three-shot groups of 1", unscoped. One group fell nicely into the ten while the other crossed the line of nine and ten. Pretty accurate and straight out of the box.
The .44 Magnum magazine takes eight bullets, with the magazine 'free floating' inside the grip cavity. In fact, if you try and push the magazine up higher once it's seated it can cause a round to jam. Like most self-loading pistols in anything higher than .22, a firm double-handed grip is necessary to aid the cycling process. Limp wristing will allow the gun to roll back too far under recoil and diminish the impulse of the gas-operated slide. A malfunction may occur. As mentioned before, the recoil is remarkably well absorbed and utilised and it is quite easy to inadvertently lighten the power of your grip causing a stovepipe jam. The weight and gas-operated design handles the .44 Magnum power almost too well.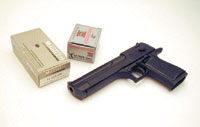 If you're not happy with just shooting sluggish old .44 Magnums, then the platform of the Desert Eagle allows it to be rebarrelled for .50 Action Express or, if you'd like to go a bit lighter, the .357 Magum - but it'll cost you about another $1000 to get the necessary barrel and magazine to convert.
On a final note, this handgun was supplied with one of the easiest, clearest operator's manuals I've ever seen for a handgun or longarm.
So, there you have it. The Desert Eagle Mark XIX sure is big and ugly but it is also very, very powerful, yet it is highly accurate and has very low felt recoil.
The Specs
Mark XIX Desert Eagle component-based system on a single platform.
Available in eight easily interchangeable variations: .357 Mag, .44 Mag, .440 Cor-Bon Mag or .50 AE, each with 6" or 10" barrels.
Standard finish is black oxide but nickel, chrome and 24K gold finishes are also available.
Leupold scope and Weaver rings recommended.
Weaver rib on the barrel.
Standard combat sights.
Hogue grips optional extra.
Safety catch operable from either side.
Rotary bolt locks firmly into the barrel during firing.
Magazine capacity in .44 Mag: eight rounds.
Trigger reach: 32mm.
Overall length in .44 Mag: 273mm.
Height: 159mm.
Width: 32mm.
Manufactured by Israel Military Industries Ltd (IMI) and Magnum Research, America.
Imported into Australia and sold by Gold Coast Shooters Supplies, 07 5597 3220.
A favourite choice of Hollywood directors - eg, Mickey Rourke in The Year of the Dragon and Arnold Schwarzenegger in Eraser and The Last Action Hero.
Price: As supplied about $3000.