Target review Beretta 87
by John Coory
Australian & New Zealand Handgun 1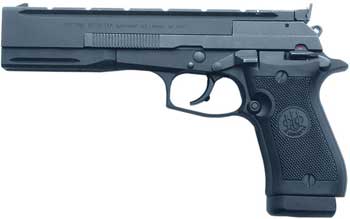 For a first buy, a good quality general-purpose rimfire is the way to go and the Beretta 87 Target would have to be a top contender. Quality of the highest order is obvious the moment you lay eyes on this svelte, ten-shot self-winder. Clean lines, tight tolerances and design displaying the classic Italian approach of function dictating styling are standout attractions.
Marketed as a dedicated action shooting target pistol, it might be considered a little on the long side but this is not a consideration when gripped, as it sits very snugly in the hand due to a very filling ergonomic profile.
Barrel line is higher than one would like ideally but it is the alloy sleeve that exaggerates this and helps place the foresight a good two centimetres above the barrel axis. This sleeve, in keeping with the trend, is dovetailed along its entire length to accommodate optic sights and makes for a funky-looking unit, with its weaver interface. The alloy counterweight too is grooved to take accessories and adds to the solid appearance of the pistol, fitting in place so well as to appear to be a part of the frame.
Sights are clean and provide nice target acquisition, though I swapped to the narrower of the two supplied foresight blades, which gave a better sight ratio and cleaner definition when up against paper targets. The rear sight, naturally, is fully adjustable and is crisp and positive in all directions. Sight radius is a generous 185mm.
The 150mm barrel features six-groove micro rifling and I suggest would be more at home with uncoated ammunition. I once had a Unique Des 69 with similar barrel internals and it would become completely leaded to the point where bullets would key-hole after only 20 rounds through a clean barrel if Teflon-coated ammunition was used. The stuff was jumping the rifling, stripping and leaving so much lead behind, only a sound thrashing with a bronze brush would move it. When it did dislodge, it was coming away in flakes, so heavy was the layering.
With a flick of the take-down latch located on the starboard side of the frame, the steel slide and barrel are free to be removed. Very uncomplicated, tool-free field stripping for on-the-go maintenance. With barrel and slide to one side, the zirconium alloy frame reveals the workings of this single-action-only unit, which looks not unlike the arrangement contained in the excellent Russian Margolin pistols, though substantially more modern and refined.
Front and rear frame straps along with the trigger guard are grooved to provide a very positive hold, either single or two handed. The exposed hammer spur too has serrations and engages the thumb nicely. Trigger movement is two stage, factory set and fiddle free. The manual describes it as "light and crisp", which sounds more like a between-meal snack, but I have to agree; it is just that and minus the excessive first stage travel one usually encounters with pre-set triggers.
The wide, flat profile at the muzzle allows the Target 87 to remain upright when set down on a flat surface, ready to be gripped, loaded and fired, which may be of some advantage in certain practical competition events.
Two, ten-shot magazines are included and are exceptionally well-made and sturdy. Rubber padded and minus delicate front lips usually seen with high-end target pistols, these are designed to be changed mid competition, action style and take the occasional drop without losing their ability to feed cleanly. Their exposed internals, due to the open-sided nature of their construction, would perhaps allow easy access to foreign matter if they made it to the dirt but would also allow quick remedy too for the same reason. In all, not a bad design. And they feed cleanly without the annoying trend of shaving material from projectiles, which often is the case with rimfire self-loaders.
Accuracy from the Target 87 is in keeping with the overall quality of its construction. Comfortable to shoot, due to great hand-filling qualities, it recovers promptly from recoil and settles back on target in a very ordered manner. Its balance is so neutral, it transfers recoil pulses vertically without any perceivable torque action. I did not attach any accessories to the pistol but I would hazard a guess it would still maintain its 50/50 balance if correctly set up and continue to give terrific handling.
In the words of the big fellow, "I'm excited"!