Shotguns and rabbits
by Leon Wright
Hunter 4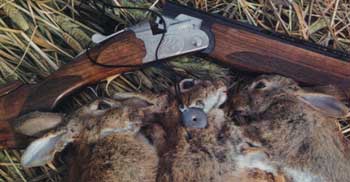 If there were such a thing as the perfect firearm for rabbit hunting it would have to be the shotgun. While the 12 gauge is the most popular, there are those among us who derive great pleasure from hunting them with 20 gauges, 16 gauges and even the little .410.
We all have different tastes and ideas of the perfect gauge or the perfect shot for use on rabbits. This explains why, despite the proliferation of good, cheap brands of shotgun cartridges on the market these days, a lot of us still prefer to reload. With reloading, very little is achieved in regard to cost effectiveness; it is simply a matter of a hunter gaining immense satisfaction by taking rabbits with his own tailor-made loads.
With the introduction of the calicivirus, a lot of hunters gave rabbit hunting away, as they believed the little battler was finished, but this is not entirely the case. While the virus has had a pretty good strike rate in a lot of areas, there are still quite a few pockets of rabbits that will give excellent hunting for those willing to seek them out.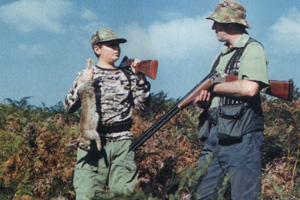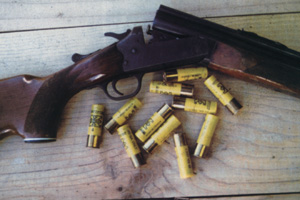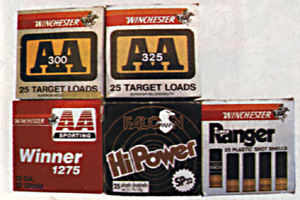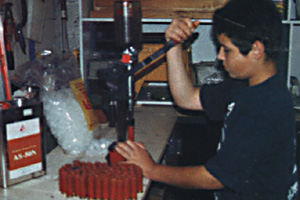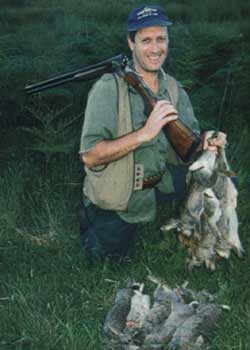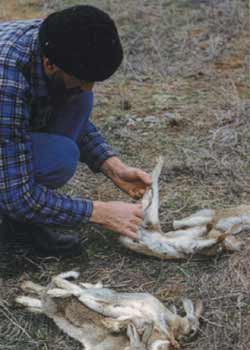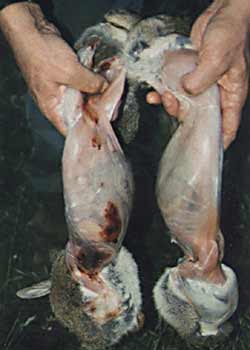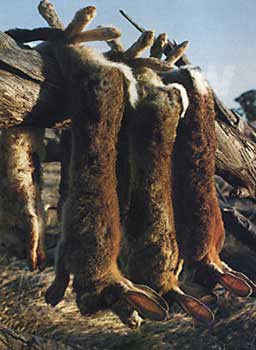 The two areas in which I do most of my rabbit hunting have been affected little, with myxomatosis still being the biggest killer of rabbits.
On the last three trips to a particular property I have taken 50, 100 and 75 rabbits respectively. Now that's good hunting in anyone's language.
Admittedly, we were using dogs to flush them from the bracken ferns and high grass. The one trip that we didn't take the dogs we still bagged a good 50 rabbits in a couple of hours, hunting late in the afternoon.
On a recent goat hunt to outback New South Wales, I regretted not taking some shotgun ammunition, as the rabbit population, which had been dormant for a couple of years, had started to move and there were rabbits everywhere. We took a number with a .223 rifle but that's not the same as taking them with a shotgun as they bolt between the saltbush clumps.
If I had to pick a shotgun for rabbit shooting specifically, I would choose a 20 gauge for a number of reasons.
Most rabbits are taken in true shotgun style, bolting from under the hunter's feet or moving just ahead of a dog. The range is usually about 25 metres, give or take a few metres, and this distance is perfect for the 20 gauge. Apart from that, the 20 gauge is lighter to carry, as is the ammunition.
However, like most hunters I am guilty of selecting the 12 gauge instead the 20 gauge for probably no other reason than ignorance. In its defence, the 12 gauge is far more versatile than the 20 gauge and I doubt if the 20 gauge's popularity will increase above its present level.
Events beyond our control have made choosing a shotgun much easier.
The choice now is either a side-by-side or an under and over. Some still choose to use the old single barrel, but while it will put in a good account of itself it is fairly limited.
For years I have used a side-by-side for all of my rabbit hunting and I found it just about perfect. Unfortunately, it was bored half and full choke, which was standard for most shotguns for years. I particularly liked the double trigger on my side-by-side, as that instant choice of chokes often made the difference between a cleanly killed rabbit taken with the half choke, instead of being mangled by the full choke.
Probably one of the greatest improvements to the shotgun would have to be the interchangeable chokes.
I quickly had them fitted to my Beretta side-by-side because I had felt for a long time that a full choke barrel was definitely out of place for 95 per cent of rabbit hunting. I had my Browning A5 fitted with a half or modified choke and never regretted it. I had the Beretta side-by-side fitted with half or modified choke in the left barrel and three- quarters or improved modified choke in the right.
Throughout the past couple of years I have been using a Beretta S686E under and over for my rabbit hunting.
While I like the single sighting plane of the under and over, I simply cannot get used to the amount of drop the barrels have when I break it open. I am forever banging the barrels on something, an act never done with my side-by-side.
I have my Beretta fitted with a half or modified choke on the bottom barrel and in the top barrel I have fitted a three-quarter or improved modified choke. I use this combination for general walk-about hunting.
Something that needs to be done by shotgun hunters is to have the pattern checked on their gun. Have you ever checked yours? It is very important to know exactly how your shotgun is performing if you are to get the best out of it. Out of the half or modified choke on my Beretta side- by-side, the pattern is more open, but the approximate 83 per cent pattern density that can be achieved is going to put an awful lot of rabbits in the bag.
As previously stated, most of my rabbit hunting is done over dogs at about 27 metres. I have long favoured using 32-gram loads of No. 6 shot and at 27 metres I am looking at a pattern density of about 91 per cent out of the three-quarter or improved modified choke on the Beretta under and over.
The other form of rabbit hunting I thoroughly enjoy is shooting as the rabbits are flushed from warrens by ferrets. While I still prefer to use 32-gram loads of No. 6 shot, I have quite often dropped to an even lighter 28-gram load. These are quite satisfactory for use over a warren. Ranges encountered while hunting over warrens are a lot closer, so to avoid excess damage to the rabbits a few things need to be looked at.
In the old days when our side-by- sides had to be fixed half and full chokes, we used to allow the rabbits to get out a bit before firing. However, it is not as easy as it sounds because often the rabbit was out of sight before reaching the correct distance and more times than not there were several rabbits bolting together.
My Beretta S686E under and over is also used for this type of rabbit hunting, Once again the interchangeable chokes come to the rescue with a quarter choke fitted to the bottom barrel and a half or modified choke fitted to the top barrel, a far better choice for this type of hunting. With pattern densities of about 77 per cent and 83 per cent respectively over 27 metres not many rabbits are going to get away if I do my part.
What size shot to use is always a prickly question, as everybody has his or her favourite. If we take a 32-gram load of No. 6 shot (my favourite), we are looking at about 300 pellets. Given that we have bowled the rabbit over perfectly after having caught it in the centre of the pattern, it is bound to have quite a few pellets in it. Hopefully most will be lodged under the skin, with enough entering the rabbit to kill it humanely without causing too much flesh damage so it can be eaten. When I take some home for the table I dig the pellets out of the carcass and soak it in salt water overnight to draw out any of the bruising.
Like me, my old mate Jeff prefers to use 32-gram loads and chooses to use No. 2 shot. With about 130 pellets to the load, he believes that the rabbit is going to get fewer pellets in it. While I concede that No. 2 shot will certainly flatten any rabbit, it will be more knocked about with broken legs and perforated vital organs the norm. If you are not thinking about eating the rabbit and are simply on a pest eradication exercise, then I can see his point, but most rabbits taken with this load will be inedible. Also, the pattern will not be as dense as a similar load, of say No. 6 shot, once the so-called holes start appearing in your shot pattern the number of missed rabbits starts to climb.
As I mentioned before, patterning your shotgun is quite important and if you would like to check yours it is quite a simple procedure. Firstly, you can do it through your local branch of the SSAA, as they will be only too happy to help. If, on the other hand, you are a long way from a shooting range it can be a bit more difficult, but not much.
To do so, you need something that can accommodate a 75-centimetre circle, a piece of cardboard or an old sheet of plywood. Draw a 75-centimetre circle on it with a central aiming point. Set it up at about 40 metres and fire a shot at it. Use a steady rest if possible. After firing the shot, count how many pellets hit in the circle and compare it against the number of pellets known to be in the load of shot in the cartridge used.
Also, check to see if there if there are any gaps or clumping of shot, as these too can lead to missed game.
It can be time consuming to check each individual choke over different distances, out to 40 metres, but the time spent now will be appreciated later on in the field, believe me. Also test as many brands of ammunition that you can lay your hands on. There are numerous books around for the hunter who wants to check percentage readings for different loads out of different chokes but the previous method will surface for those who cannot gain access to such equipment.
Now that you have learnt how and where your shotgun shoots, it is time to head out after those bunnies. When that rabbit bursts out of the patch of scrub and bolts across the clearing at 30 metres, you'll now he is yours - or is he?
Captions
Image 1: Have you encountered the situation of all the rabbits disappearing out of sight into the bracken before you are in range? Simply stand in or near the bracken and blow a tin fox whistle. This will soon get them moving again.
Image 2: A day in the field hunting rabbits with your son is a pursuit followed by many SSAA members.
Image 3: The 20-gauge shotgun is not as popular as the 12-gauge, but rest assured it will perform just as well as the 12-gauge on rabbits over normal ranges, with the extra benefit of being far lighter to carry.
Image 4: The good thing about hunting rabbits with a shotgun is that target loads as well as general field cartridges can be used with similar results.
Image 5: Newcomers to the sport of hunting should be taught all aspects of it, but only under supervision, especially while reloading.
Image 6: This hunter is happy with the results of an afternoon's hunt in good rabbit country. His Beretta is fitted with open chokes.
Image 7: After a quick few minutes shooting over ferrets, this hunter pairs the rabbits for easy transportation.
Image 8: Shown are two rabbits, the one on the left was taken with 32 grams of No. 2 shot while the one on the right was taken with 32 grams of No. 6 shot. Both were taken at about 30 metres.
Image 9: The pairing of rabbits is a popular way of carrying them as well as enabling the carcasses to be draped over a log to drain and cool down.