Commonsense scope care
by John Dunn
Hunter 1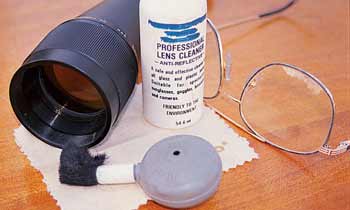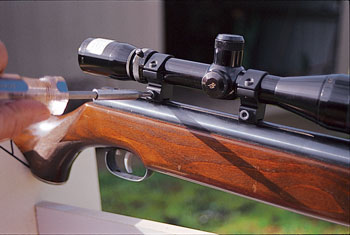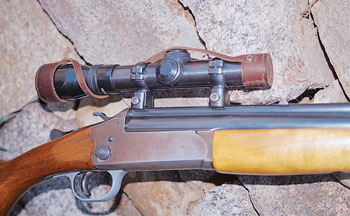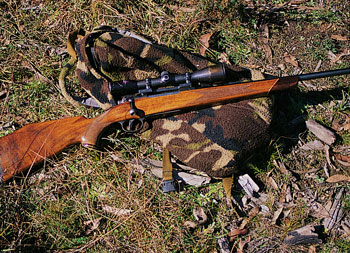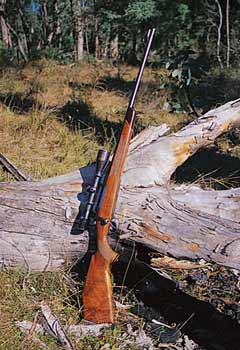 Just like a rifle, scopes perform best when they are routinely cleaned. Firearm maintenance is an essential task for all hunters and shooters, with the emphasis generally placed on the barrel and action. Seldom is any major consideration given to telescopic sights.
More than anything else, that's a reflection of modern 'scopes'. Generally, they're so good it's easy to forget that scopes, just like rifles, can actually benefit from a little maintenance from time to time - especially those that are used in the field.
Barring accidents, a scope that has been cared for will, under most circumstances, be reliable. While it's no great drama if a scope fails on an afternoon rabbit hunt, it is if you're hunting bigger game - perhaps on trip you've spent a lifetime saving to take. Believe me, it does happen.
Realistically there's not a lot the average person can do for a scope other than carry out preventative maintenance checks on a regular basis. At the very least that means giving the body of the scope a wipe every now and then to keep it clean. With modern anodised finishes, most scopes don't need any more than that, but on some of the older, steel-tubed scopes that are still in use, a rub with a lightly oiled rag won't go astray. It is also a good idea to check that the turret caps are tight and that the locking ring on the ocular lens is screwed up hard against the eyepiece.
Mounts must be checked regularly to ensure they are tight. Loose mounts will not maintain their zero and may eventually jar off the rifle, causing damage to the scope.
The scope must also be tightly clamped within the scope rings. If it isn't, it will move under recoil, the rifle won't shoot to where it's aimed and the scope tube, the eyepiece or the turrets may be damaged. In a worst-case scenario, the scope may actually fail internally due to the hammering effects of recoil.
The reason most scopes get out of alignment is because they have been knocked or bumped. When storing firearms, try to avoid bumping them against one another in the gun safe. During transportation, make sure they're carried in a padded case or bag. Just as importantly, don't stack other gear on top of them and try to put the case where it can't fall down.
In the field, never lean scoped rifles against anything - especially the door or bumper of a vehicle. Given the slightest excuse, they will fall over. At the very least that will create an unsafe situation for anyone who is around and will almost certainly cause some sort of damage to the scope, the rifle or both. If you must put a rifle down, lay it on the ground so it can't fall any further.
Just like a rifle, scopes perform best when they are routinely cleaned. Lenses collect dust and dirt wherever they are so it makes sense to keep them clean. A film of dust might not matter in bright daylight but under less than perfect conditions - and spotlighting is a good example - it could make sighting impossible.
Stored firearms should have covers on the scopes to keep dust out. Even then, it's still a good idea to make a habit of cleaning the lenses before you go to the range or hunting. Often, a simple wipe with a piece of soft clean cloth is all that will be needed, taking care not to rub the lens too much as static electricity will make lint stick. If you must use tissue paper to clean lenses, make sure it is soft. Some tissue papers are quite hard and can actually cause minor scratches to lens surfaces.
If the lenses are really dirty, use a camera blower brush, then clean them with the solution used for cleaning reading glasses and wipe them dry with a soft cloth.
Leupold has a lens cleaning system consisting of a natural hair brush and a micro fibre cleaning tip that is charged with a cleaning compound - all nicely put together in a compact package that can be taken anywhere.
In the paddock it will sometimes be hard to prevent dust collecting on scope lenses. Provided lenses were clean to start with, the bulk of this can usually be removed by blowing on the affected lens, then gently wiping with the corner of a clean handkerchief - the operative word being 'clean'. Small leaves and twigs that are collected when hunting in thick bush or scrub country can be removed the same way.
Hunting in the rain or snow can be very productive, but spots of moisture on lenses can make it difficult to see through a scope.
Bushnell is currently offering the RainGuard water repellent lens coating on their Elite scopes. Basically, it's designed to reduce the size of the droplets that collect on the lens in rain, fog or snow and allow a clearer view through the scope.
The best way I know to keep rain off scope lenses is to carry the rifle with the objective lens angled downwards and the ocular lens protected under the arm or close to your body. Alternatively, it may be worth considering quick detachable (QD) mounts that allow the scope to be completely removed during inclement weather. Open sights aren't affected by rain but they should be checked to ensure they're properly aligned.
Various types of protective covers are available, but in my experience they never seem to perform as well as the advertisements would have you believe - especially if you want to get a rifle into action in a hurry.
Some manufacturers provide sunshade extensions that screw into the front of the objective lens. Designed to keep excess light off the lens, they can also help to keep the rain away. Their major drawback in the field is that they can act as a trap for leaves and twigs that would otherwise fall away from an ordinary scope.
QD mounts may also be an option on something like a guided hunt, where travel on horseback or in a vehicle through rough terrain raises the spectre of a scope being accidentally damaged. Under those circumstances, a spare scope set up in QD mounts could be an option worth exploring - something that a travelling hunter might like to consider.
While mishaps do occur in the hunting fields, most problems with scopes can be avoided by using a little care and common sense.
Captions
Image 1: A camera blower brush is ideal for cleaning dust off scope lenses. A soft cloth can also be used. The solutions used to keep reading glasses clean would also clean scope lenses.
Image 2: Routine firearm maintenance should always include checking the tightness of scope mounts and screws, especially on hard recoiling arms such as this Weihrauch HW77 air rifle.
Image 3: While being stored or carried in a gun case, lens caps of plastic or leather are a good way to help keep the lenses clean. Old, steel-tubed scopes like this low powered Kahles variable need to be given a regular wipe with an oily rag to keep their blued finish intact.
Image 4: If you must put a rifle down in the bush lay it on the ground. From there it can't fall over and knock the scope out of alignment.
Image 5: Leaning a rifle on a log like this is begging for trouble. It will fall over given half a chance - and the scope will probably suffer.