Ruger No. 1 - a classic single-shot hunting rifle
by John Dunn
Hunter 3
In an age when repeating rifles have reached unprecedented levels of development and sophistication, it seems paradoxical that demand for singleshot rifles should continue to exist at all. In spite of this, there are probably more single shot makers in business today than there were in the latter part of the 19th century when this genre of firearm was in its golden age.
The credit for the resurgence of the modern single shot rifle rests squarely with Bill Ruger. When he introduced his No.1 falling block in 1966 he found a niche that other makers had overlooked. His rifle struck a responsive chord with riflemen everywhere, combining old style looksith design and mechanical features that had never before been seen in a single shot rifle.
The widespread acceptance of the Ruger offering inspired other makers to join the party and today there are scores of manufacturers making single shots. Some are modern reproductions of action types made 120 years ago by companies such as Sharps, Remington or Ballard, as often not chambered in older big bore calibres.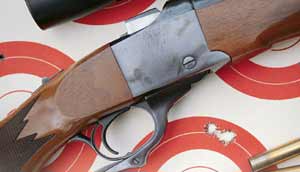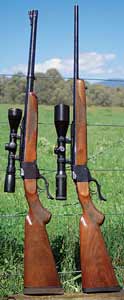 Others are more up to date in concept and materials, designed to chamber modern, high intensity cartridges. They carry names such as Browning, Dakota, Thompson Center and New England Firearms. All are quality firearms but Ruger remains the yardstick by which all other modern single shots are currently measured.
Given the Ruger's dominance of the market, the question arises: What makes it stand out from the crowd? Ask a dozen different single shot shooters and you'll get as many answers. Everyone seems to have a personal perspective.
To me, the Ruger appeals in many ways. It looks, feels and functions like no other modern rifle. Workmanship, fit and finish are all first class. It looks like a rifle that will shoot - and usually it will. It has all the intrinsic values of the classic single shots, inspiring pride of ownership and confident use.
Of the eight No.1 Ruger models currently available, six have blued steel receivers and two are stainless. All components are made from heat-treated chromemoly or stainless steel with music wire coil springs used throughout. The action is widely regarded as the strongest single shot rifle action ever built.
When the finger lever is pushed down and forward, the breechblock drops vertically to expose the breech end of the barrel. To load, simply thumb a round into the chamber, pull the lever back and up and the rifle is ready to go. It's hard to imagine anything simpler than that.
The two position tang-mounted safety blocks the sear when engaged, retracting the hammer to positively prevent the rifle being fired. To fire the rifle, the safety is slipped forward and the trigger squeezed to release the hammer. Under spring pressure, the hammer is driven against a transfer block that pushes the firing pin forward to discharge the cartridge.
With its compact action, the No.1 Ruger can use a standard for calibre barrel length and still be consistently shorter overall than any bolt or lever action rifle. Being able to load directly nto the chamber means cartridge length isn't dictated by action length. This allows handloaders to experiment with bullet seating depth virtually at will in the hunt for optimum accuracy.
Twenty-four calibres from .22 Hornet through to .458 Winchester Magnum are currently offered in various models. Depending on model, barrels are available in three different weights, with lengths from 50.4 to 66cm.
Most No.1 rifles come fitted with a quarter rib machined to accept Ruger scope rings - the exception being the 1-V Varminter model, which has target scope blocks. The 1-B Standard and 1-V Varminter are supplied with standard rings and 30mm rings are available if required.
The 1-A Light Sporter, the 1-H Tropical Rifle, the 1-RSI International and 1-S Medium Sporter are fitted with an adjustable folding rear leaf sight and a gold bead foresight.
Pistol grip stocks are standard - mortised into the receiver and secured by a through stock bolt. All are finished with a soft rubber recoil pad.
Fore-end styles include semi-beavertail, Alexander Henry and International (full length) designs. All are attached to a hanger system under the barrel by an angled screw that snugs them against the barrel and the front of the receiver at the same time.
American walnut is the preferred stock timber on most models, with panels of chequering on both the pistol grip and fore-end. Stocks on the stainless models are laminated hardwood and have no chequering.
Overall, the No.1 Ruger presents a range of quality single shot rifles. They combine modern design and materials with careful fit and finish to provide up-to-date firearms that are classy, elegant and practical.
Having written that last line from a personal point of view, I must acknowledge that not everyone would agree with those sentiments. Most people who have handled No.1 rifles will agree they're fine products, but many would argue their practicality - especially as hunting rifles.
A single shot just doesn't hold enough ammunition for those folks who like the idea of making their way through a mob of pigs or goats with a fast-working repeater. Even selective hunters take comfort in knowing that their favourite bolt or lever action always has follow up shot readily available should it be needed.
Those opinions cannot be criticised. We all make personal choices about the firearms we use. Some folks like bolt actions, others like levers. The purists love double rifles. I just happen to like single shots.
Original single shots - as opposed to modern reproductions - come in a fascinating array of makes, models and calibres that beg to be collected. They have an intrinsic style that is particularly their own. Most are extremely well made and, as the historical records indicate, were accurate as well. In the very early days of centrefire cartridge arms they were the only firearms capable of handling the big bore calibres that carried over from the muzzleloading era.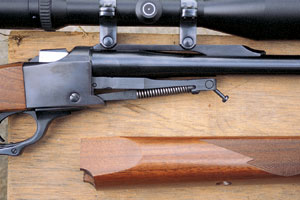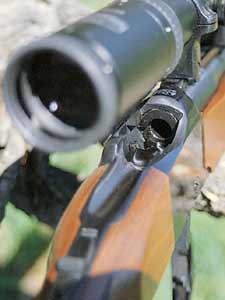 Today, of course, it's a different story. Repeating rifles have come a long way, as has metallurgy, the materials firearms utilise and the cartridges they fire.
Even so, modern single shots such as the Ruger do have a distinctive style about them that people like me find hard to resist. With some 35 years of recreational and professional hunting behind me, I've reached a stage where I know what I want in a firearm. Throughout that time I used all sorts of firearms - some of which are now illegal - to take more than my fair share of game and pest animals.
These days I do very little control shooting and I no longer have to kill a lot of animals to call myself a hunter. I only take what I need or want and I know I can do that with a single shot.
The first No.1 I owned was a 1-B Standard Rifle in .243 Winchester. It fitted me well and I shot it with confidence. It was responsible for the demise of swags of small- and medium-sized animals up to pig and goat size.
Professionally, I even took it goat culling. If it was slow to reload and fire when dealing with mobs of animals, I must admit I never noticed. With my shirt pockets full of cartridges, I always managed to do my share of the work. My mate at the time reckoned it must have been a good rifle. Everything I pointed it at fell over.
As a challenge, I also used it a couple of times to shoot field rifle on the range. In the rapid-fire section, I managed to get my quota of shots away within the allocated time. My scores were never as high as they could have been, but the holes in the targets were always within 'minute of goat'.
There was a time when some experts questioned the Ruger's accuracy. Attention was generally focused on the hanger system used to attach the fore-end to the barrel, the relationship between them and the widely accepted notion that two-piece stocks just aren't as stable as their one-piece relatives.
Perhaps I've been lucky, but in the Rugers I've owned, accuracy had never been a major problem. All have shot well. Even so, on current models the fore-end is fitted tight against the barrel - the tip actually pressure bedded. Ruger obviously believes this is the best way to go, as the owner's manual specifically warns about altering the bedding in any way.
At different times it has also been implied that using a single shot rifle somehow makes a hunter a better shooter. Having owned and used Rugers since the late 1970s, I'm not at all sure I agree with that line of thinking. While the majority of No.1 rifles are certainly capable of excellent accuracy, at the end of the day they cannot make an indifferent shooter into a super marksman. All they will do is make the user appreciate their limitations.
With just one shot available, a hunter has to work much harder to swing the odds his way. That could mean choosing a calibre that is a little heavier than usual for any given type of game. It means having to practice on the range until you know exactly what you can do with your rifle, not just sight it in and think that you know. It means getting in a little closer, being patient and waiting for the best shot to be offered, then using whatever sort of a field rest is available. It means placing the shot carefully, regardless of calibre and not relying on subsequent shots to complete a job that humane considerations decree should be done as swiftly and cleanly as possible.
It might mean having to pass up some game. It does mean hunting responsibly - something we all should be doing no matter what type of firearm we use. Those are challenges not all riflemen are prepared to accept.
At present, there are five working single shots in my collection and three of them are Rugers. The smallest is a No.3 carbine. Built on the same action as the No.1, it has a simpler finger lever and a very plain, straight gripped American walnut stock. Issue sights are a folding rear and gold bead front, while the top of the barrel is drilled and tapped to accept screw-on bases.
Introduced in 1973, the No.3 was chambered for the .22 Hornet, .223, .30/40 Krag, .44 Magnum and .45/70 before being discontinued in about 1986. Mine was made in 1976 and is chambered for the .22 Hornet.
Fitted with a 6x42 Lynx scope, it routinely shoots 25 to 30mm groups with handloads. It's a lovely little rifle for small game and will take much larger game with careful shot placement. The Hornet is a very pleasant calibre to shoot - delivering acceptable accuracy and power at moderate ranges without the bark of some bigger .22 centrefires.
There's also a 1-B Standard Rifle in .300 Winchester Magnum. Fitted with a Schmidt and Bender illuminated reticle scope, it is very accurate at all practical hunting ranges. Off the bench it will produce 17 to 20mm groups with selected handloads in bullet weights from 165 to 220 grains.
The calibre is one I know and shoot well, having used it throughout the years to take game including pigs, goats, chamois, tahr and fallow deer. Some might argue it's too much gun for game this size. That may well be, but it does the job well - all you can ask of any rifle.
My third Ruger is a recent acquisition, which, at the time of writing, I've yet to use on game. It's a 1-H Tropical rifle, chambered in .458 Winchester Magnum. Fitted with a 1.5-6x42 Lynx Professional series scope, it has produced three-shot groups of 14mm off the bench with handloaded 400-grain Woodleigh bullets.
No-one can complain about accuracy like that and it really is a sweetheart to shoot. While I probably don't need a rifle this large, I'm having a lot of fun playing with it and look forward to hunting with it. The grand plan is to use it as a sit-and-wait sambar rifle this winter - a task I'm sure it will handle with all the aplomb I've come to expect from a Ruger.
Bill Ruger revitalized single shot shooting when he introduced his No.1. In it he gave firearms enthusiasts a working rifle that embodied all the features valued by the single shot shooters of yore - simplicity, dependability, accuracy and quality workmanship in an affordable package. A classic single shot that can take its place alongside the best from the 19th century. A rifle that currently has no equal among modern sporting arms.
Long may such traditions continue.
Captions
Image 1: The Ruger No. 1 - simplicity, dependability, accuracy and quality workmanship in an affordable package.
Image 2: A pair of classic single shot hunting rifles. Left is a 1-H Tropical rifle in .458 Win. Mag. fitted with a 1.5-6x42 Lynx Professional scope. Right is a 1-B Standard rifle in .300 Win. Mag. fitted with a 3-12x56 Schmidt and Bender.
Image 3: The fore-end on Ruger rifles is attached by this hanger arrangement under the barrel. Notice the angled screw that pulls the fore-end up against the barrel and into the front of the receiver at the same time.
Image 4: When the breech block is lowered, there is direct access to the Ruger's chamber. Notice that the extractor is fully retracted, and that the right wall of the receiver is lower than the left to facilitate loading, though the Ruger is essentially an ambidextrous rifle.